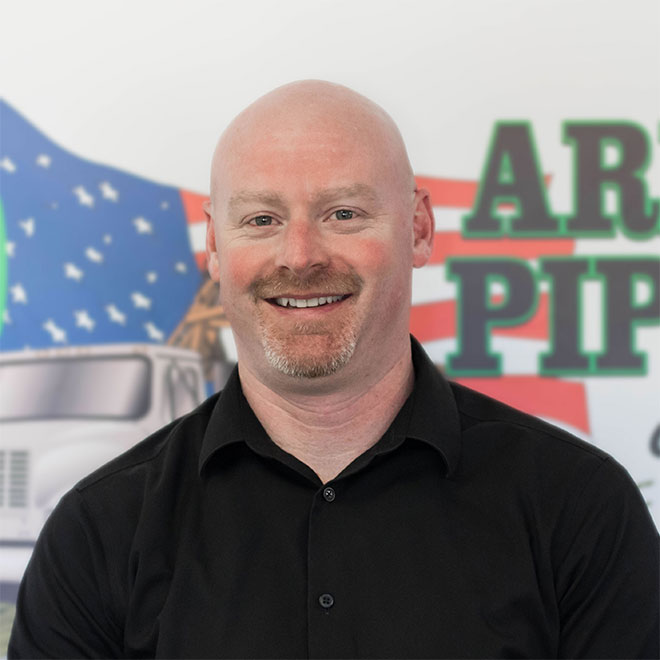 David began his career with Arizona Pipeline in 2005 after completing an eight-year service in the United States Navy where he served as an Electronics Technician aboard the aircraft carrier Constellation and an Instructor for radar repair and maintenance in San Diego.
Upon joining APC David worked his way through various positions in the company including laborer, pipe fitter, coordinator, and drafter, before becoming a divisional trainer in 2007. Training on a variety of underground topics, he became an authorized OQ trainer for a number of different programs including Southwest Gas, Veriforce, and the N.C.C.E.R.
In 2009 he was moved to the Corporate side of APC to help unify and direct the various safety programs throughout the company. He became a qualified trainer in OSHA outreach, MSHA, CPR/First Aid, asbestos, competent person, confined spaces, and various other safety topics. During this time, David also obtained his Bachelors of Science in Business Administration.
In early 2012, David was asked to assist in overseeing the company's Las Vegas Division and became the Area Manager. Leading the division personnel to take greater responsibility and pride in their work all while maintaining production levels was the primary challenge that he met. With the help of a great management team, the division made it through the year and has been going strong ever since. Needing to return home however, David went back to the High Desert Division in 2013 where he served in the same capacity as Area Manager.
In late 2015, APC was successful in being award various contracts with SoCalGas and David was tasked with opening the company's new Pacific Division in the Northern Los Angeles Area. Overseeing 190 divisional employees throughout the area all while maintaining ties to various corporate tasks, he managed a variety of projects through the DIMP, DREAMS, Distribution, and DRIP programs.
In early 2016, while still managing the Pacific Division, it was announced that David would be promoted to Arizona Pipeline's Executive Vice President as the company prepared for the future. This position expanded his roles in the corporation as he became involved in directing company policies and procedures.
In 2018 David became the majority owner of the company and was elected as President / CEO. Through daily interactions as well as formal and informal meetings, he develops the corporate policies and procedures that flow from corporate and direct the company's Officers, VP's, Division Managers, and individual personnel. David is very proud of the culture that APC has built and looks forward to guiding it far into the future.
When he's not a work, David enjoys spending time with his wife Amber and their two children Grayson and Evie. If he's not working or with his family, he can be found sleeping.