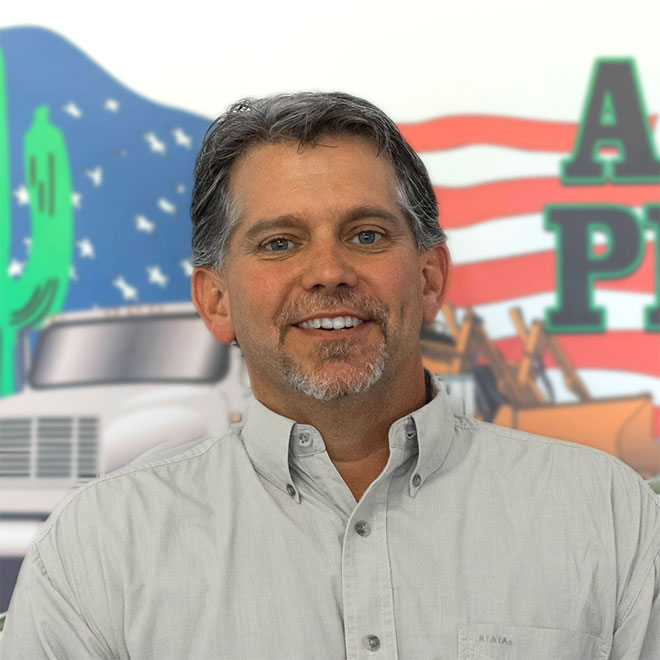 Charlie Manherz began working for a utility contractor in 1989. He began his career in Tucson at an entry level position as a mechanics assistant, but really wanted to be in the field. In 1990 and 1991, he was given the opportunity to work on a cathodic protection crew. He assisted in the installation of deep well anode beds to protect steel pipelines throughout Southeastern Arizona. When that project came to an end, he began working with the pavement repair crew. After a few months, he was promoted to foreman where he worked in Ajo, Florence, Ehrenberg, Casa Grande, and several other areas of western, south eastern, and central Arizona.
Between 1994 and 2002, Charlie was an operator, foreman, coordinator, and superintendent working on, and overseeing pavement replacement, gas pipeline, and electric crews in Arizona, Montana, Wyoming, South Dakota, and Colorado.
In 2003 he returned to Arizona and was hired by Arizona Pipeline as a superintendent. In 2008 Charlie was promoted to Division Manager of the Tucson Division. With the help, willingness, and expertise from long time employees, Brian Keydoszius (Project Manager), Joe Cota (Safety Manager), Steve Thurlow (Superintendent/Estimator), Dan Willard (Superintendent), Jaime Quintero (Superintendent), and Bill Holiman (Shop Foreman) they have seen the Tucson Division grow by almost 500%. This staff is what makes Arizona Pipeline a safety first, quality contractor.