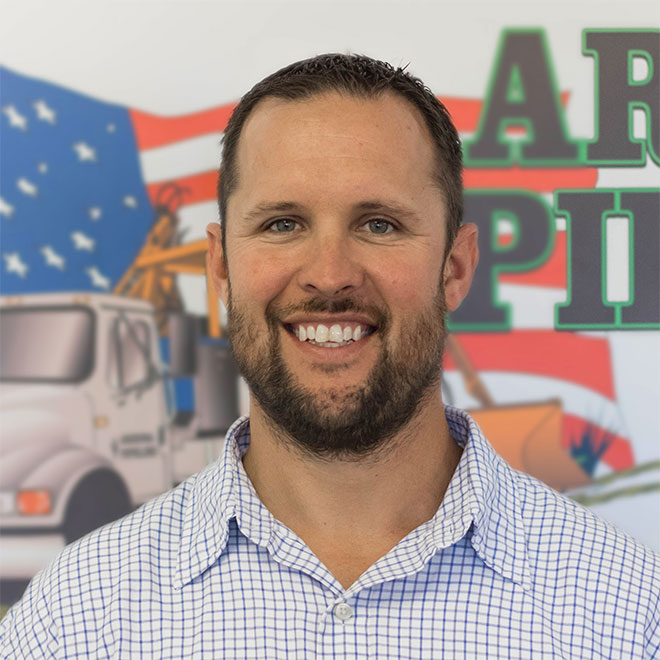 Chad Falzone is the Division Manager for Arizona Pipeline Companies Hesperia Division. Chad has been in the construction industry for 20 years. He began his career with Arizona Pipeline in 2005 as a general laborer. Shortly after that became a pipefitter where he learned to work on natural gas lines from ½"-6".   He was promoted to a foreman position a couple months after that and excelled at that position for approximately 6 years. In 2011, he took over the training department for the Southern California Area and also assisted with the startup of the Las Vegas Division. He was the Division Trainer for five years where he was in charge of keeping employees qualified in various natural gas OQ tasks. He helped spearhead a training program for Arizona Pipeline in 2012 to be in compliance with a newly awarded SoCal Gas Company contract.   He is a certified OSHA 10 and 30 Outreach trainer. He is certified through the EPA as an AHERA Contractor Supervisor to train Asbestos courses and also holds various certifications through the Occupational Safety and Health Administration.   He was promoted to Division Manager in January 2016.
Chad graduated from the University of La Verne with a BA in Business Administration. Chad knows that creating a culture of safety and quality is one of the key components to being productive in this day of age. He believes that teamwork and having a positive business relationship between each of his customers is vital to getting a job completed correct the first time. His style of management allows his employees to develop into great leaders. He is convinced that in business and in life; "The only true constant is change". Adapting to that change is the difference between a good leader and a great leader.
In Chad's spare time he enjoys hiking, trips to the beach, and hanging out with the family. He volunteers his time to the youth at the church he belongs to and regularly participates in other non-profit fundraisers. He currently resides in Apple Valley with his wife and three daughters.