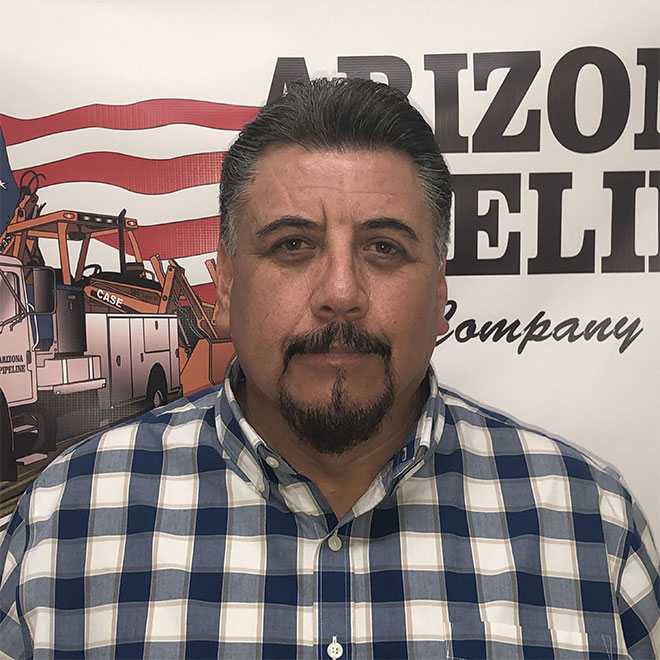 I started my career at Arizona Pipeline in the fall of 2004 after spending 15 years in the freight
transportation industry where I did everything from load trucks to work as a dispatcher, freight broker,
sales associate, operations manager & owner/operator.
So fittingly, my start at Arizona Pipeline's Corona division was behind the wheel of a ten wheeler. It
didn't take very long for me to work my way into a lead driver role for larger projects. After spending 5
years as a ten wheeler driver, my aptitude for a supervisory role paid off as I was promoted to vault
repair foreman which lasted approximately one year where I spent a lot of time in confined spaces.
As I continued to express a strong desire to move into some type of management position, I got my wish
when an opportunity opened up in managing safety. I worked very hard at learning how to train
employees, enforce PPE usage, manage incidents, reinforce a preventative safety program, and
ultimately became the Corona division safety manager in early 2011.
After working in that capacity for a number of years while significantly improving the safety culture in
Corona and showing that I was able to work well with people, the hard work paid off and afforded me
the opportunity to be considered for an even higher leadership role. This opportunity became available
in May of 2018 when I was named the Pacific Division Manager which entails managing approximately
160 employees servicing So Cal Gas in the Northern Los Angeles / San Fernando Valley area.
What I have cherished during my tenure at Arizona Pipeline is the opportunity for advancement if you
show dedication, hard work & commitment. I also have two sons working for Arizona Pipeline in the
Corona division who share the same passion and gratitude for the opportunities available.
When I'm not at work I enjoy traveling with my lovely wife Sonia and spending time with my 4 sons and
their families which includes 8 grandchildren. Hobbies include camping with family, golf, & riding my
Harley.